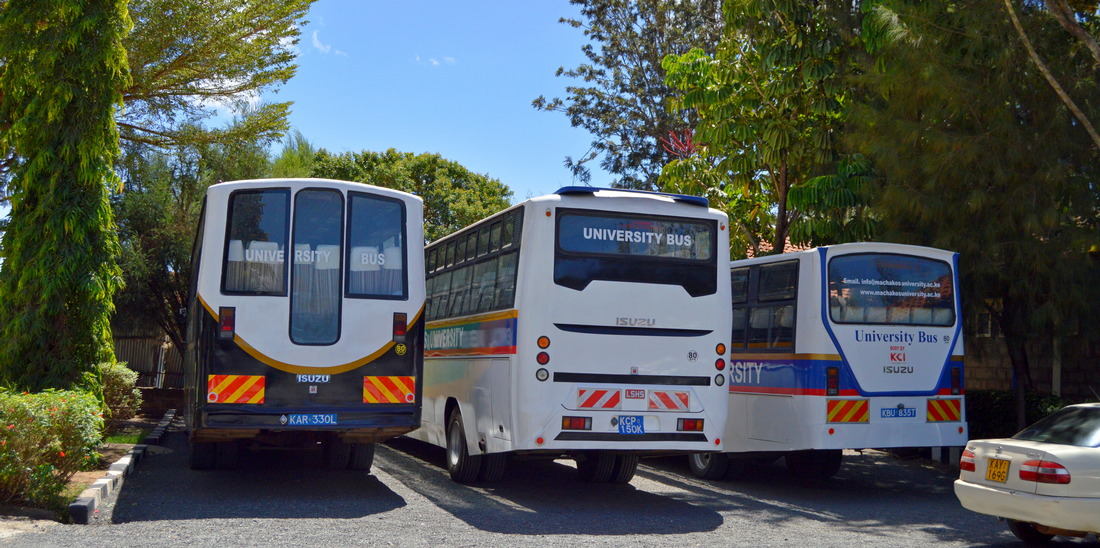 MESSAGE FROM THE H.O.D- TRANSPORT DIVISION
Welcome to the Transport Division of Machakos University.
The Division was established in the year 2016 under the office of Deputy Vice-chancellor (APF). It is headed by Head of Department (Transport), Mr. Bernard Ndolo.
Although the Division is under the office of Deputy Vice-chancellor (APF), it serves as a key Department to the University because of its roles to the University at large. The Division ensures that the University's Transport section and its fleet is well maintained and availed to users efficiently.
Staff Establishment;
| | | |
| --- | --- | --- |
| S/No. | NAME | DESCRIPTION |
| 1 | Bernard Ndolo | Ag. Transport Manager |
| 2. | Mr. Mutua Musyoka | Assistant Technologist / Driver |
| 3. | Mr. Peter Ndutu | Driver |
| 4. | Mr. Onesmus Musyoki | Driver |
| 5. | Mr. Henry Muiva | Driver |
| 6. | Mr. Joseph Kivuva | Driver |
| 7. | Mr. Martin Kivuva | Driver |
| 8. | Mr. Benson Ngaruiya | Driver |
| 9. | Mr. Douglas Mwaura | Driver |
MACHAKOS UNIVERSITY
MANDATE;
The core Mandate of Machakos University is to Teach, Train, Conduct Research, Innovation, collaboration, generation of new knowledge and community service.
PHILOSOPHY STATEMENT;
The Philosophy of Machakos University is to provide transformative Leadership in Teaching, Training, Research, Innovation, Industrial and Technology transfer for wealth creation.
IDENTITY STATEMENT.
Machakos University is an academic institution committed in transmitting Knowledge, Skills and attitude through Science, Technology and Innovation for the benefit of humanity.
VISION;
A preferred University of Scholarly Excellence.
MISSION;
Provide Scholarly education Through Training, Research and Innovation for industrial and Socio-economic transformation of our communities.
CORE VALUES;
INTEGRITY – To honestly deliver on our promise to stake holders.
ACCOUNTABILITY – To always be accountable in the assigned duties.
PROFESSIONALISM – To be committed to high standards of training and service delivery.
INCLUSIVITY – Respect for delivery.
CREATIVITY – Determination to continually improve.
TEAM WORK – To actively work together to achieve common goals.
EQUITY – To strive to be an equal opportunity to University where meritocracy is practiced in all areas.